Bald eagle rescued, released at Lake Allatoona | News
ACWORTH, Ga. -- The state of Georgia has more bald eagles now than it has in decades.
This past month, when one eagle suffered a devastating injury, a group of Georgians came to its rescue.
"To give this eagle a second chance," said photographer Dieter Finke, "I'm so excited to get to see the eagle fly away today."
Dieter Finke was taking photos last month with his friend Vic on Lake Allatoona, when both heard a large branch snapping.
"Here comes this eagle, soaring out," recalled Finke. "After observing the bird, we realized he probably wasn't in good shape."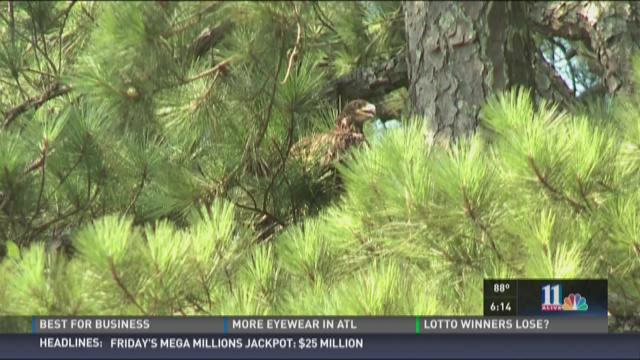 The bird suffered a fractured leg. Dieter and Vic contacted the Georgia Wildlife Rescue Association, whose executive director, Chet Powell, talked them through the recovery process.
"We had to kind of collapse its wings and contain it, and then we took him on a little boat ride across the lake," said Finke.
Volunteer Charlie Lowery transported it to the hospital, and the eagle was then sent to the Southeastern Raptor Center at Auburn. Veterinarians there nursed it to full health.
Wednesday at Camp Pine Acres, a Girl Scouts camp on the lake, dozens gathered to release the bald eagle to the wild.
"I never thought the day would come," said Lowery, who got emotional at the sight of the bird's release. "It's kind of embarrassing to see a fighter pilot cry."
"I've done quite a few eagle rescues," said Powell. "They're always thrilling, and the releases are the best part."